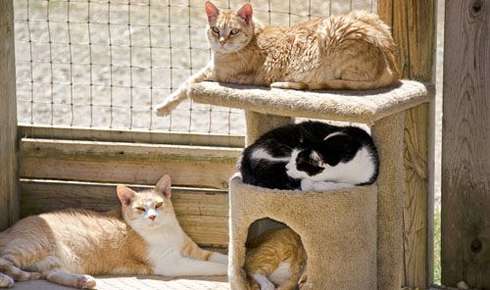 A cat enclosure offers the perfect way for your favorite feline to enjoy a little outdoor time without being subjected to the dangers of the real world. Before you make the decision about adding an enclosure to your property, consider these facts.
Free Access to the Outdoors Can Decrease a Cat's Lifespan
Free roaming cats are subject to many dangers, including:
Car accidents
Injury or death at the hands of cruel people
Attacks by other animals
Communicable disease, such as feline leukemia, feline AIDS, feline distemper, and upper respiratory infections
Poisoning from anti-freeze and intentional poisoning
Parasites, including ticks, fleas, ringworm, tape worms, and ear mites.
Adding an enclosure protects your pet from these dangers and helps ensure that you have many years to spend with your furry friend.
Cats Are Adaptable
If your cat currently spends a lot of time outdoors unsupervised, you may be concerned that it will not react well to being deprived of the ability to come and go freely. Fortunately, most cats are very adaptable and adjust to life indoors within a few months. Building an enclosure gives your pet plenty of time to spend outdoors without any of the risks.
Enclosures Provide Exercise and Stimulation for Indoor Cats
Keeping your indoor cat stimulated can be a challenge at times. An outdoor cat enclosure offers the perfect spot for hours of bird or squirrel watching and helps your cat stay active and engaged.
3 Tips for Indoor Cat Enrichment
Keeping your indoor cat happy and stimulated is simple when you follow these three enrichment tips.
Offer a Selection of Toys. Provide plenty of toys to keep your pet busy. Cats love toys that offer ample opportunity for chasing and pouncing, such as lasers, fishing poles, battery-operated mice, or other types of toys that move on their own. Since lasers and fishing poles require your involvement, they help strengthen your relationship with your furry friend.
Encourage Your Climber. Cats enjoy climbing and viewing their surroundings from the highest spot in the room. Exploring and climbing not only helps your cat get adequate exercise, but also keeps her active and alert. Add cat condos and trees to your home to encourage climbing, or build your own cat climbing system with leftover lumber from your cat enclosure project.
Bring Home a Friend. Everything is more fun when you have a friend along, whether you are a human or a feline. Life can get boring for an only cat, particularly if you are at school or work for long hours. When you add a second cat to your family, your pets will fill the hours that you are away playing, chasing, and grooming each other.
Things to Think About When Building or Buying a Cat Enclosure
Space. How much space do you have to devote to the enclosure? Some cat owners screen in their patios to create large feline-friendly spaces, while others buy long cat tunnels that allow their pets to safely explore their yards. Keep in mind that your cat may become bored or frustrated if your enclosure is really just a glorified cage. Although enclosures can be built or bought in varying sizes, your cat's enclosure should be big enough to allow him to move, turn around, and jump freely.
Type. Both freestanding and attached enclosures are good choices. Attached enclosures are added to windows, doors, or patios and can be accessed through pet doors. Freestanding structures can be permanent or can be erected and dismantled every time your cat goes outdoors.
Comfort. Your cat enclosure should be a comfortable space for your cat. Include a shaded area to provide relief from the sun, and create a few comfortable lounging spots. If your enclosure is tall, add a few climbing spaces or a cat condo. Of course, you'll want to include a litter box, food, water, and toys.
Quality Construction. If you build your own enclosure, make sure it can handle the elements and plenty of pouncing, jumping, and running. Screens and barriers should be strong enough to keep your cats in and other animals out. If you buy an enclosure, make sure it's sturdy enough for everyday use and cannot be easily toppled.
Do you have a question about your cat's health or behavior? Call us and let us know how we can help you and your pet.
Sources:
CatTime.com: Debating Keeping Your Cat Indoors or Letting Them Outside Sometimes?
http://cattime.com/cat-facts/health/78-indoor-outdoor-cats
The Marin Humane Society: Cat Enclosures
https://www.marinhumane.org/oh-behave/cats/enclosures/
American Humane Association: Indoor Cats vs. Outdoor Cats
http://www.americanhumane.org/animals/adoption-pet-care/caring-for-your-pet/indoor-cats-vs-outdoor-cats.html
WebMD: Should You Have an Indoor Cat or Outdoor Cat?
http://pets.webmd.com/cats/features/should-you-have-an-indoor-cat-or-an-outdoor-cat