Welcome to our Alburtis veterinary clinic, where we take pride in offering a range of comprehensive services for your beloved pets: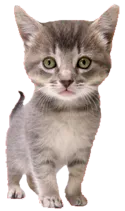 Appointments:
Our dedicated receptionists and team are committed to accommodating all appointment requests to the best of our ability. In case of emergencies, our clinic is open and ready to assist you at any time. If you suspect your pet is facing an urgent situation, please call us or head directly to the hospital. If possible, call ahead so that our staff can provide guidance on your specific emergency.
Emergency & Urgent Care:
Rest assured, we have a skilled veterinarian and personnel available five days a week during our regular business hours. They are specially trained and equipped to handle any urgent care needs your pet may have. Our emergency team consists of experienced veterinarians and technicians working together to save your pet's life. Emergencies may include incidents like snail bait poisoning, car accidents, or chocolate ingestion. If you ever find yourself in need of emergency treatment for your pet, do not hesitate to contact us immediately. Whenever possible, it is beneficial to call in advance, allowing our team to advise you on the best course of action.
We also offer urgent care services when your pet's condition is not life-threatening but requires prompt attention before a scheduled appointment. Our veterinarians will do their best to "squeeze" you in between appointments. Upon arrival, our receptionists will provide an estimate of the expected waiting time.
After-hours Emergencies:
During times when our office is closed, we recommend reaching out to one of the following 24-hour referral/emergency hospitals. Choose the one closest to you for convenience:
- Eastern Pennsylvania Veterinary Medical Center - 7042 Snowdrift Road, Allentown, PA 18106 - 610-904-1776 - https://www.epvmc.com/
- Valley Central Veterinary Referral & Emergency Center - 210 Fullerton Avenue, Whitehall, PA 18052 - 610-435-1553 - http://www.vcvrec.com
- Quakertown Veterinary Clinic - 2250 N. Old Bethlehem Pike, Quakertown, PA 18951 - 215-515-8810 - http://www.quakertownvetclinic.com
- Blue Pearl Shillington - 400 W. Lancaster Ave, Shillington, PA 19607 - 610-775-7535 - https://bluepearlvet.com/hospi...
Types of Pets Seen:
At Alburtis Animal Hospital, we are passionate about providing specialized care and attention to our patients. Therefore, we focus on routine and urgent care for the following limited species of pets:
- Dogs
- Cats
Payments:
To ensure we continue to offer high-quality service using the best medical technologies, we accept various payment methods, including cash, check, MasterCard, Visa, Discover, American Express, Apple/Google Pay, and Care Credit. Payment is kindly requested at the time services are rendered. For surgeries and hospitalizations, we gladly provide estimates upon request for your anticipated charges.
Alburtis Animal Hospital is well-stocked with most medications and recommended foods for our patients, available at our hospital pharmacy. Additionally, we offer the convenience of online shopping and home delivery through AlburtisAH.VetsFirstChoice.com .